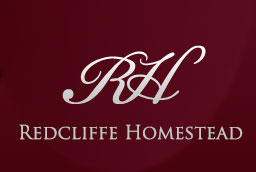 Privacy Policy
Introduction
Redcliffe Homestead respects your privacy and is committed to protecting it. We recognize the need to protect the personally identifiable information you share with us, which mainly consists of any information by which you can be identified, such as name, address and telephone number. By submitting any information through the use of this site, or by otherwise accessing or using this site, you agree to the terms of this Privacy Policy and consent to the policies and practices described for the collection, use or disclosure of personal information.
Sites covered by this Privacy Policy
This Privacy Policy applies to www.redcliffe.co.nz
Types of information we collect
This Privacy Statement covers personal information and non-personal data collection and aggregate reporting.
"Personal information" is information that is associated with your name or personal identity. The types of personal information you provide to us may include name, address, phone number, e-mail address and credit card information. Once you choose to provide us with personal information, you can be assured it will be used only to support your customer relationship with Redcliffe Homestead. We take seriously the trust you place in us. We will not sell, rent or lease your personal information to others.
"Non-personal information" is data gathered from our Guest Satisfaction Survey Forms that is not associated with a specific personal identity. Redcliffe Homestead will collect and analyse this non-personal information in order to improve our service, environmental performance and marketing strategy.
Children's privacy
Redcliffe Homestead is committed to protecting the privacy needs of children and we encourage parents and guardians to take an active role in their children's online activities and interests. Redcliffe Homestead does not knowingly collect information from children under the age of 13 nor target its website to children under 13.
How we use your information
Redcliffe Homestead uses your personal information to provide you with accommodation services and to help us better understand your needs. Specifically, we use your information to help you complete a transaction, to communicate with you and to provide you with a memorable accommodation experience.
Credit card information is used only for payment processing and fraud prevention. Credit card information will not be kept longer than necessary for providing the services.
Although we use all reasonable means to ensure that the information you provide to us is not used by third parties for purposes other than those described in this Privacy Policy, Redcliffe Homestead is not responsible for any improper use of your personal information that is beyond our reasonable control.
Non-personal data is aggregated for reporting about Redcliffe Homestead's performance. It is used to improve the guest experience.
Who we share your information with
Redcliffe Homestead will not sell, rent or lease your personal information to others. Redcliffe Homestead will not share your personal information with third parties except in responding to your requests for products or services. Your permission will be requested when you submit your information. Redcliffe Homestead will not share personal information with any other third parties without your permission, unless to:
respond to duly authorized information requests of governmental authorities;
comply with any law, regulation, subpoena, or court order,
help prevent fraud or to enforce or protect the rights and properties of Redcliffe Homestead; or
to protect the personal safety of Redcliffe Homestead employees and third parties on Redcliffe Homestead property.
Keeping your information secure
Redcliffe Homestead is committed to protecting the information you provide us. To prevent unauthorized access or disclosure, to maintain data accuracy, and to ensure the appropriate use of the information, Redcliffe Homestead has in place appropriate physical and managerial procedures to safeguard the information we collect. We use Secure Sockets Layer (SSL) encryption when collecting or transferring sensitive data such as credit card information. SSL encryption is designed to make the information unreadable by anyone but us. This security measure is working when you see either the symbol of an unbroken key or closed lock (depending on your browser) on the bottom of your browser window.
However, this data may be held by held by BNZ BuylinePlus, in accordance with their own privacy policies
Cookies
Cookies are small pieces of information that are stored in a browser-related file on your computer's hard drive when you use our Web site. We use cookies to improve the member experience. We also use them to deliver information and fresh content specific to your interests. Cookies are widely used on most major Web sites.
Redcliffe Homestead mostly uses "session" cookies, which are removed from your computer once you leave the website. These are used so our service can remember that you have logged in already and prevent you doing so more frequently. The technology we use (PHP), requires the use of session cookies. Session cookies expire and are deleted after 30 minutes of no activity on the website.
If any user of this website suspects Redcliffe Homestead has handled its personal information in a manner that does not comply with this Privacy Policy, please contact us.
Contacting us
We value your opinions. If you have comments or questions about our Privacy Policy, please contact us.